Unit 164 meets every 3rd Wednesday of the month at the WMCA Clubhouse at 22415 Kingsland Blvd. Katy TX 77450 at 7:30 PM.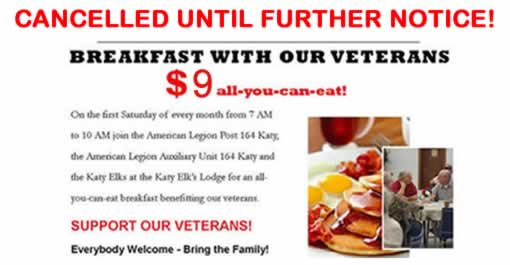 The Commander of the American Legion Post 164 and the Exalted Ruler of the Elks Lodge 2628 have reviewed the new orders from the Governor and the County Judge and have decided that Breakfast with our Veterans be closed until further notice. Actual opening dates will be communicated as conditions change.
---
Throughout the year there are many individual events going on, so please check the schedule below and come and join us, we would be delighted to see you! If you click on an event, it will expand and show you further details.
Unit 164 meets every 3rd Wednesday of the month:
WMCA Clubhouse
22415 Kingsland Blvd.
Katy TX 77450
7:30 PM